APPLE BOWL
₨ 4,895
Here we have a luxurious serving dish that is created by hand to resemble the shape of an apple. It is beautifully curved and on the top, you will find an accent of a twig with a leaf. The inner material made of high-quality brass and the outer part is silver plated by Pakistani craftsmen. This Apple bowl will be a statement piece on the dining table for all your family and friends to adore. The shape gives it a modern twist on a classic bowl and that makes this the perfect wedding gift that can complete any home décor.
In stock
Related products
With the candle lit, and the flame dancing, what a pretty picture this makes! Marble Candle Stand One of our best selling items, we have been unable to stop producing this candle stand, it is a joy to behold! Weight: 978 grams Size: 7" length 7" Width 15" height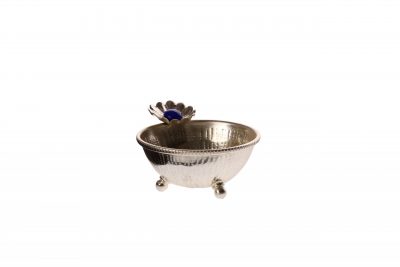 This elegant bowl is made with high-quality brass and silver plated by artisanal craftsmen, who made this into a unique piece. On the outer side is a delicate edge adorned with a graceful open flower as centre a semi-precious gem Lapis Lazuli, a gem beloved by many artists for its intense blue colour. Under the handmade bowl are round feet to add more elegance for display in any luxury home. The Tara bowl is very similar to the Aries bowl in the Taneez collection. Both will make a thoughtful gift for a birthday, an anniversary, a wedding or Mother's day.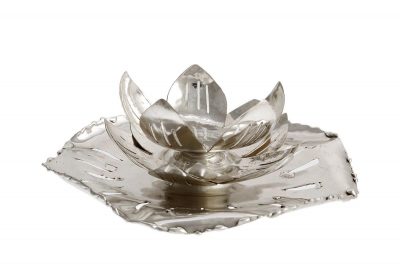 Bring sleek modern style to your luxury home or to the office with this elegant candle stand. Made by Pakistani craftsmen this silver plated piece will surely catch the eye of your family and guests.  Solid quality brass has been silver plated by hand to create this unique piece. It consists of three layers to eloping of an opening rose turned to the open sky reflecting the light in its beauty. The Rose Candle Stand is very versatile and can also be used to hold a small fresh flower arrangement or aromatic potpourri. The shape is classic combined with modern cut out decorations that make this the perfect gift idea for any occasion.